2019 AKC Canine Health Foundation National Parent Club Canine Health Conference
08/09/2019 - 08/11/2019
St. Louis, Missouri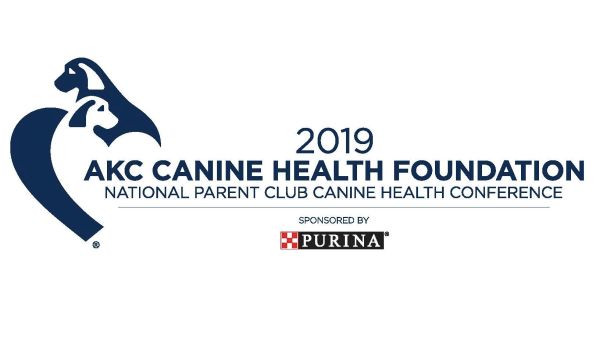 August 9-11, 2019
Hyatt Regency at the Arch
315 Chestnut Street
St. Louis, Missouri, United States, 63102
314-655-1234
Early Bird Registration (through May 31, 2019): $60
Regular Registration (June 1 - July 31, 2019): $125

Thank you to everyone that attended the 2019 AKC Canine Health Foundation National Parent Club Canine Health Conference!

Conference Information
The AKC Canine Health Foundation invites you to attend the 2019 AKC Canine Health Foundation National Parent Club Canine Health Conference. This year's conference includes lectures on nutrition & disease, autoimmune disease, infectious disease & cancer, and genetics & genetic testing. It also offers a breakout session for veterinary students hosted by the Orthopedic Foundation for Animals and social events to facilitate networking among the students, scientists, and dog lovers that attend. In addition, the Asa Mays Excellence in Canine Health Research Award will be presented to honor a research investigator that demonstrates meritorious advancements in furthering the mission of identifying, characterizing, and treating canine disease. Please review the conference details on this page and we look forward to seeing you in August.
Schedule:
Friday, August 9
10:00 AM
Registration
1:30 PM
Welcome
1:45 - 5:50PM
Lectures -

Nutrition & Disease

New Approaches to Diagnosis and Therapy of Intestinal Microbiota Dysbiosis
Dr. Jan Suchodolski
Effects of Probiotics on the GI Microbiome and Immune System of Dogs and Cats
Dr. Michael Lappin
The Gut-Brain Axis and Those "Gut Feelings": Impact of BL999 (Bifidobacterium longum) on Anxious Dogs
Dr. Ragen McGowan
Food for Thought: Updates on Nutritional Considerations and Heart Disease Staging in Dogs
Dr. Darcy Adin
An Update on Cannabidiol Research in Dogs
Dr. Stephanie McGrath
Nutrition and Disease Panel
8:00 PM
Welcome Reception
Saturday, August 10
7:30 AM
Coffee, Tea and Light Breakfast
8:00-11:45 AM
Lectures -

Autoimmune Disease

The Canine Health Information Center Program – Status Update and Call To Action
Mr. Eddie Dziuk
Addison's Disease: A Research Update
Dr. Steven Friedenberg
Clinical Characteristics of Steroid Responsive Meningitis Arteritis in Dogs in North America
Dr. Karen Muñana
A Case of Mistaken Identity: Autoimmunity and Endocrine Disorders (Keynote address)
Dr. Anita Oberbauer
Vector-borne Infections and Autoimmune Disease: What's the Link?
Dr. Linda Kidd
Autoimmune Disease Panel
Lunch
12:30-4:45 PM
Lectures -

Infectious Disease & Cancer

Emergence of Canine Leptospirosis: Coming Soon to a Puddle Near You?
Dr. Jason Stull
The genus Bartonella and Vasoproliferative Cancers in Dogs and Humans
Dr. Ed Breitschwerdt
Advances in Immunotherapy for Canine Cancer
Dr. Steve Dow
Propranolol and Hemangiosarcoma: Can We Use an Old Drug to Learn New Tricks?
Dr. Erin Dickerson
Two Decades of Advances in Canine Hemangiosarcoma. The Light at the End of the Tunnel is Getting Brighter, and It's Not a Train!
Dr. Jaime Modiano
Infectious Disease and Canine Cancer Panel
4:45 PM
Approaches to Genetics and Breed Diversity Panel
Invited Speakers
6:00 PM
Cocktail Reception
7:00 PM
Dinner and presentation of 2019 Asa Mays Excellence in Canine Health Research Award
Sunday, August 11
7:30 AM
Coffee, Tea and Light Breakfast
8:15 AM
Break-out session for veterinary students
8:15AM-12:35PM
Lectures -

Genetics & Genetic Testing

Harmonization of Genetic Testing and Breed-Specific Resources
Dr. Brenda Bonnett
Cardiac Disease of Purebred Dogs - Genetics & Beyond
Dr Joshua Stern
Understanding Dog Breeds as Populations
Dr. Jerold Bell
Development and Utilization of a Genetic Risk Assessment for a Multifactorial Disease
Dr. Leigh Anne Clark
Genetics and Disease Panel
Lodging:
A block of rooms has been reserved at the Hyatt Regency at the Arch in St. Louis for $155 per night plus taxes. You are responsible for reserving your room.
Continuing Education:
This program 272-37125 is approved by the AAVSB RACE to offer a total of 16.25 CE Credits (16.25 max) being available to any one veterinarian and/or veterinary technician. This RACE approval is for the subject matter category of Medical Program using the delivery method of Seminar/Lecture.
Thank you to our sponsors:
---
Previous Conferences:
2017 AKC Canine Health Foundation National Parent Club Canine Health Conference
Help Future Generations of Dogs
Participate in canine health research by providing samples or by enrolling in a clinical trial. Samples are needed from healthy dogs and dogs affected by specific diseases.